In Springtime a young mans (or woman's) fancy turns to thoughts of…. biking! Right? Welllll, love too I'm sure!  Anyhoo, last weekend Nancy and I went for our first real bike ride of the 2016 season.  A lovely route that took us throughout the Northeast section of Portland and included among other sights the home turf of Beverly Cleary's "Henry Huggins" on Klickitat Street.  Oh yeah, that lovely shot of Mount Hood was taken along the route as well!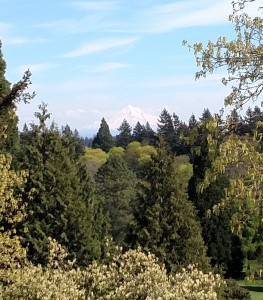 As I explained in my intro to the "Health & Fitness" section we love to go biking together if the weather is favorable. We use the "Map My Walk" app which tracks our workouts via GPS on our phones.  Its easy to use, free, and has a road bike setting…perfecto!  Last year we logged 626 miles of biking and walking throughout the area and capped off our season by riding the Banks to Vernonia Trail. The Banks to Vernonia Trail, a multi-use trail paved over a decades-old train bed, 21 miles of tree-lined, easy-grade, pathway that conducts you through sun-dappled glades and across swift, clear streams.  All tolled about 44 miles for that ride (not bad for a couple of 40 somethings).  This year our goal is to reach 700 miles and we would like to cap the riding season off with the Oregon Covered Bridge Bicycle Tour or CBBT.
     So come along with us as we reach toward our goal and share some of the sights along the way.  We'll keep you updated on our progress toward our goal…Woot!!  We would love to hear about some of the places in your neck of the woods where you love to bike as well as events both near and far that promote the great sport of biking.
–Mike
(Visited 35 times, 1 visits today)
Tell the world about this!